Everest Plan VENTO
Technical data
---
Specification text
The Everest Plan VENTO ultra-low-temperature radiator is the decorative version in our VENTO range. The fully automatic radiator with integrated fans provides an enhanced convection. This makes the radiator extremely suitable for low and ultra-low supply temperatures, such as with heat pumps. In addition, the VENTO can provide non-condensing cooling in combination with a heat pump.
Product
decorative ultra-low-temperature valve radiator with a flat front and integrated fans for a boosted convection
Finishing
decorative flat front, upper grille and side panels
Pre-installed
fully automatic fans, preset Heimeier 4368 or 4369 valve insert, air vent and blind plugs
Valve insert
The integrated adjustable valve insert (without thermostatic head) is factory-fit on the right side of the radiator, CEN certified, tested in accordance with EN215 and compatible with thermostatic heads M30 x 1,5 mm.
The thermostatic valve insert is factory-set in relation to the size of the radiator. This presetting ensures optimum throughput in the radiator. Factory setting for two-pipe systems, also suitable for one-pipe systems (as long as the valve insert is adjusted to position 8).
Also supplied
AC/DC adapter 240V/12V with 1,5 m power cable, VDI brackets with anti-lift (type Monclac), screws, plugs and installation instructions
Control
fully automatic, modulating control. When plugging in, the fans will briefly operate to check their proper functioning. During their normal operation the fans will start when the bottom side remains warm during a certain amount of time. This may take 10 – 30 minutes.
Cooling
in combination with a heat pump. The inlet temperature must remain above the dew point. For optimal cooling, the direction of the water through the radiator must be reversed, and the thermostatic head fully open. If the room temperature is higher than the maximum temperature setting of the radiator thermostat, the thermostatic head must be temporarily removed.
Sound pressure
max. 32 dB(A) at a distance of 1 meter, for a radiator with a length of 1.000 mm and a height of 600 mm
Connections
6 x ½" female connection (2 x ½" lateral bottom connection included).
Lugs
2 pairs of mounting lugs up to 1.600 mm and 3 pairs from 1.800 mm
Packaging
Every radiator is sturdily packaged in high-quality cardboard and wrapped in plastic. The radiator's characteristics are shown on the label: type – height – length.
Warranty
10 years for the radiator and 2 years for the electrical components, as long as the installation instructions have been followed and Henrad's warranty conditions have been met.
Paint process
All radiators are degreased, phosphated, cataphoretically primed and powder-coated in Henrad white 9016 as standard.
Colours
Henrad white 9016 + 35 different Henrad colours and about 200 RAL-colours are possible
Max. operating pressure
10 bar (tested to 13 bar)
Min./max. operating temp.
35 – 60 °C
Conformity
in accordance with EN16430
Max. electrical power
1,2 – 7 W
Heights
400 | 600 | 900 mm
Sound pressure
The VENTO radiator is modulated. This minimises the amount of noise generated, making it virtually silent. The VENTO only works at full tilt when the temperature in your home has fallen to a low level. In that case the sound pressure at 1 meter of a model measuring 600mm by 1000mm is just 32dB(A), the level of a whisper.
How loud is a given decibel level?
db(A)
Perception
Examples
10
Virtually inaudible
Breathing, falling leaf
20
Just audible
Radio studio, rustling leaves
30
Very quiet
Library (30-40), whispers
40
Quiet
Living room, quiet classroom, gentle hubbub, fridge
50
Moderate
Airconditioning, normal conversation, dishwasher
Connections
When mounting as a valve radiator:
When mounting as a compact radiator:
the valve insert must be removed.
the plastic plugs have to be removed and replaced by brass blinds.
* = a reduction in heat output will occur when combining low temperature heating with a high temperature difference between inlet and outlet. Not suitable for cooling.
Lugs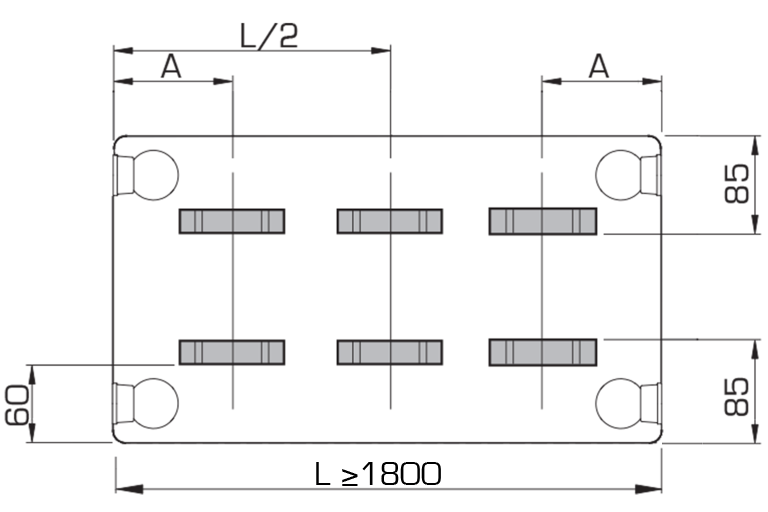 Mounting and connection dimensions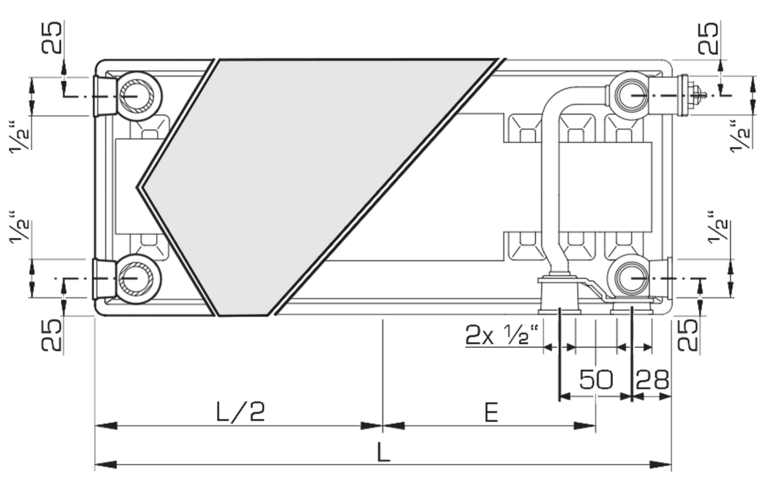 L (mm)
500
600
700
800
900
1000
1100
1200
1400
1600
1800
2000
E (mm)
197
247
297
347
397
447
497
547
647
747
847
947
L = Length of the radiator