BIM library & powerful Product Selector
---
BIM content library
By means of our Henrad BIM Application Suite, Henrad goes digital with BIM (Building Information Modeling) to deliver extra value for every stakeholder in the construction process. In addition to viewing all kinds of product-specific information such as 2D and 3D images, technical data sheets, specification text, … BIM users can make use of the option to download Henrad radiators as BIM content (Revit, IFC, AutoCAD) for free.
What is BIM?
BIM stands for Building Information Modelling, an intelligent model-based process that is increasingly being used in the construction industry. It provides clear insights to help architecture, engineering, and construction professionals with their planning, designing, constructing and managing of buildings and infrastructures. It is the only digital process that brings together all aspects of a construction project and thus encourages collaboration and aims to reduce issues during construction, as well as save time and money. All parties involved have access to 1 platform, and are in direct contact with one another through their specific BIM project – an integrated approach from design to execution.
Powerful Product Selector with many useful filter options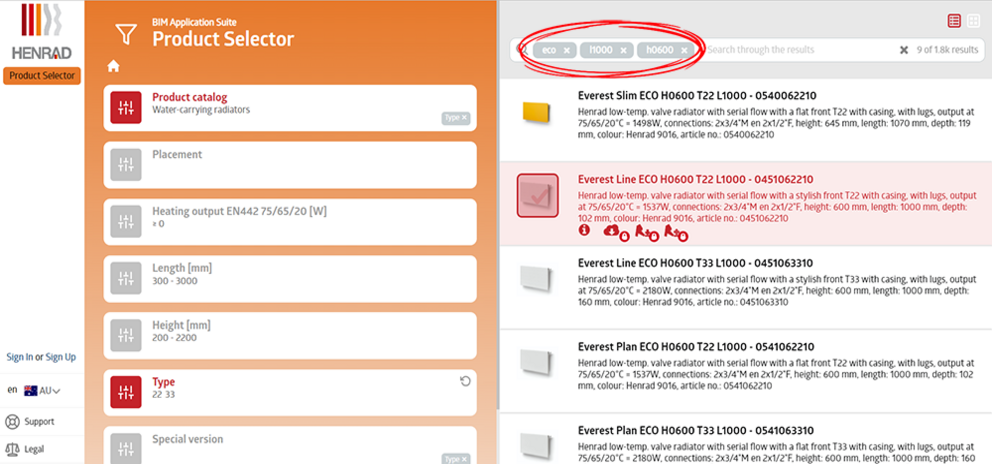 Need a Revit model? Simple, free of charge and instant available
From now on, BIM users have the option to directly download BIM content in a Revit, AutoCAD, or IFC model, completely free of charge for all our Henrad radiators. Henrad goes even one step further and offers you as a Revit user the opportunity to enjoy a fully integrated experience via the Henrad Revit plugin. A handy tool that you as an architect, installer, engineer … will appreciate. Simply registering via your e-mail or Google account is sufficient.